This exhibition has been prepared by Renegado, thanks you ! 
It is undeniable that when you play Sherwood Dungeon for a while, you will eventually make some good friends in several clans and in various joins and servers. 
These friends for their free spirits, experiences and views on the game, had accustomed to always meet each other between the midnight and the dawning at join9, sapphire server in Sherwood. 
And with the time, inspired by my name, became known as "RENEGADOS" ("Renegades").
We are only a group of friends without leaders and without rules, and willing to laugh and have fun in the game during the early morning.
I am a designer by profession, i do comic books and cartoons, and only wanted to thanks and approach this group of good friends.
I created a blog, http://renegados-sherwood.blogspot.com/, and began to publish the profile of each of them. By choosing to design their avatars myself insteed of using an assembly of print screen of the game, it seemed a way to show them that even if their avatars are repeated in Sherwood, the designs here are as exclusiv as the players, that are also unique and special individuals !
There are no great technical drawings and no great secret. For some drawings i use references and draw right on the computer, for others i pencil draw, scan then add colors on the computer. Some of them (which i am very proud of) are more then just avatars, they are people and i managed to portray and show the essence, souls, mood and styles.
Renegado

Where it all began ! This ramp is where i stay i join9-saphire server. Everyone became used to come and see me ther, waiting for an invitation to a fight (which, make no mistake... i always looseand i have the habit of the betting things... I lost the boat of Join9 in one fight ! Hope that GENE don't read that!). This look of defiance seems to fit well to my "life" in the game.
This drawing was made with mouse (believe it!). I love the style of Renegado, the hair in the wind and dirt in the armor that was ever white.

Laah
 She was also designed by mouse. This challenging look, this aura of irony, it is enterly her ! I am proud of this drawing as close to reality as it arrived.
Starwar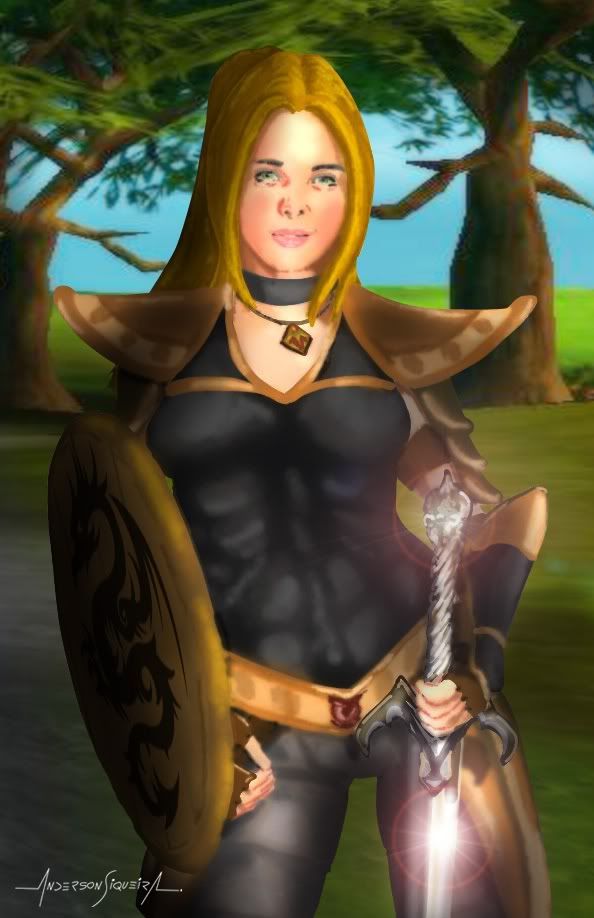 One of the rare cases where the person's face was used in the drawing.Starwar, this person is : simple and sweet despite the War on your behalf.
Sowear

This is the case of the pencil, scanner and color... I wanted something simple and dynamic to convey the warrior and the game, this spirit of adventure that is so nice.
The Punisher
Pencil and color on the computer with the new pet (i confess... the designers were so good at this pet, that is difficult to copy all the details by hand. Everytime i do, i discover something new). This one in blue doesn't exist, obviously, but it was very good in contrast with the orange trident like the symbol of the skull in the armor. This makes them unique.
Max
His hatred for his own pets and his bad memories in the game are portrayed here at the junction of computer graphism and hand drawing. The combination worked.
Vini
Only in pencil, also portraying his ironic and challenging spirit. It is real... Vini seems to do it with his swords  by provoking a fight and if the game had voices, he would say : Die!
A war (Fight)
The pencil again and montage of scenes of the game. I like this mess and "recognizing ourselfs" in the middle.
There are no great techniques or secrets in my drawings, but there is a great deal of affection in this world of Sherwood and the friends it brought to me.
Thanks for the opportunity and i leave here recorded the great admiration of the pride of beeing part of the ))G(( group. I feel honored to be accepted into a group with such talented and creativ artists.
... Renegado.